By Joyce Ashuntantang, University of Hartford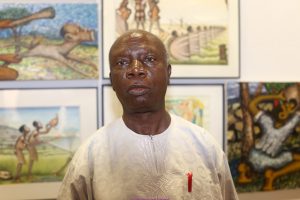 On October 1, 2016, Cameroon lost a literary colossus and playwright extraordinaire in the person of Professor Bole Butake. For over four decades Prof. Butake left an indelible presence in the literary landscape in Cameroon, teaching and grooming students who are now university dons in their own right around the world. However, it is as a playwright and theater director that he created his lasting legacy as a crusader for justice and a mouthpiece of the masses. Born in 1947 in Nkor, Noni sub-Division in the North West Province of Cameroon, Butake attended the local primary school. He later gained his secondary education from the prestigious Sacred Heart College, Mankon and the renowned Cameroon College of Arts, Science and Technology, Bambili, Cameroon. He then enrolled at the University of Yaounde where he earned a B.A. in Modern English Letters in 1972 and a Maîtrise (Post Graduate Diploma) in 1973. In 1974 he earned a Masters in English Literature from the University of Leeds, England. In 1983 he was awarded a Ph.D. (Doctorat d'Etat ès Lettres) from the Faculty of Letters and Social Sciences, University of Yaoundé, Cameroon. In 2012 he retired from the University of Yaounde after earning the rank of full professor of Performing Arts and African Literature.
Bole Butake's calm and non-abrasive personality masked the combative fire that energized his works. He authored nine published plays, which have all been performed multiple times on stage and on television in Cameroon and beyond. He was also a Theatre for Development practitioner with more than 25 productions to his name.
According to the celebrated theater historian and critic, Don Rubin, Butake's plays "throw light on difficult subjects while expressing a humanity that brings the immediate and the local into an effective and touching juxtaposition with the world at large." Butake published his first play The Rape of Michelle in 1984. In 1986, he published Lake God, which he wrote during his internship at the International Writing Program in Iowa. This mytho-poetic explanation of the Lake Nyos disaster in Cameroon, which killed over 1700 persons, was followed in 1989 with the publication and several performances of The Survivors, a revolutionary play castigating the kleptomania of a despotic regime, which shamelessly pillages relief supplies destined for the survivors of a natural disaster. In 1990 Butake published And Palm Wine Will Flow, a play that became prophetic in light of events in the early 1990's in Cameroon when the masses took to the streets to demand a more inclusive government and John Fru Ndi defiantly launched the Social Democratic Front ushering in multi-party politics in Cameroon.
Beyond writing and directing his own plays, Butake will also be remembered for his courage in directing plays by other playwrights considered subversive by the government. Such was the case with Bate Besong's play Beast of No Nation performed by the Yaounde University Theater in 1991. This play, a scathing indictment of the marginalization of the Anglophones in Cameroon, drew the ire of the regime in power. A government agent who watched the play wrote the now notorious letter accusing Bole Butake and Bate Besong of subversion and Bate Besong was subsequently arrested. Although Besong was subsequently released, Butake paid a different but heavy price. For the next ten years all theater halls at the university were off limits to him and all funding for the university theater was terminated. But the playwright was not deterred. He topped this defiance with the performance and publication of Shoes and Four Men in Arms inspired by the University of Yaoundé student strike of 1994, when students were tortured and even killed but the Government vehemently denied any student deaths with the notorious slogan "zero mort" (none dead). Professor Erkhard Breitinger, who had discovered Bole Butake's works during his trips to Cameroon, orchestrated the performance of Shoes and Four Men in Arms at the Shau Forum festival in Leverkausen, Germany. It was later translated into German by Breitinger and broadcast by Westdeutscher Rundfunk, Koln, under the title Vier Mann in Uniform und ein Berg Scuhe. This collaboration between Breitinger and Butake opened up new opportunities for Butake and his Ph.D. students at the University of Bayreuth. One of the byproducts of this relationship was the Passages of Culture project sponsored by the Volkswagen Foundation. Butake worked on this project in collaboration with Professors Till Forster of the University of Basel, Switzerland, Abdalla Uba of the Bayero University, Kano, Nigeria, Judith Schlehe of the University of Frieburg, Germany, and Liz Gunner of the Wits Institute for Economic and Social Research, Johannesburg. In fact, Bole Butake's last international outing was at the 2015 African Literature Association conference in Bayreuth, Germany where he paid a heart-warming tribute to the late Erkhard Breitinger during a Round Table discussion organized in Breitinger's honor.
Faced with government hostility towards theater at the University of Yaoundé, Butake found another outlet—Theatre for Development. He collaborated with a formidable team, which took theatre to the grassroots to sensitize the masses on their rights in various domains. Nevertheless, Butake did not stop writing main stream plays, even if he had to scramble to find funding from varied sources for performances. He published Zintgraff and the Battle of Mankon (1993 with Gilbert Doho), Dance of the Vampires (1999), Family Saga (2005) and the publication of the first play he wrote, Betrothal without Libation (2005).
Bole Butake won many competitive grants for his theater projects from several organizations including the U.S Embassy, The British Council, Goethe Institute and HELVETAS. He also received many outstanding awards in the course of his career including the 2011 Lifetime Achievement Award for Trailblazers from EduART Inc, a nonprofit organization that promotes art for social change and the 2012 Eko Prize for literature from the Anglophone Cameroon Writer's Association, which recognized "the lifetime achievement of a writer whose work, taken as a whole, has had a significant impact on literature in Cameroon and beyond." In January 2016 he also received an award from the Ministry of Culture for his contribution to the arts and culture in Cameroon. In addition, he was a nominee for the 2011 and 2016 ALA Fonlon-Nichols award.
Before his retirement, Bole Butake served simultaneously for almost a decade as Head of Department of Performing Arts and Archeology and Vice Dean in charge of Academic Affairs in the Faculty of Arts, Letters and Social Sciences of the University of Yaounde I. At the time of his death, he was Professor Emeritus of the University of Yaounde I and Dean of the Higher Institute of Arts, Social and Management Sciences, Cameroon Christian University, Bali.
He is survived by Jane Bolle, his wife of 36 years and their six children. He also leaves behind a legion of former students to carry on his legacy. They include the current president of ALA, Prof. Juliana Nfah-Abbenyi, North Carolina State University and Executive Council member, Dr. Joyce Ashuntantang, University of Hartford.
Professor Bole Butake was buried in his ancestral village, Nkor-Noni, Cameroon on November 12, 2016. May his soul find peace with his ancestors.
A Selection of Works by Bole Butake
(a) Creative Writing:
1984: The Rape of Michelle, Yaounde, CEPER (published and performed)
1986: Lake God, Yaounde, BET & Co (Pub) Ltd. (published and performed).
1989: The Survivors, Yaounde, Editions SOPECAM (performed and published).
1990: And Palm-wine Will Flow, Yaounde, Editions SOPECAM (performed and published)
1993: Shoes and Four Men in Arms translated into German as VIER MANN IN UNIFORM UND EIN BERG SCHUHE and broadcast on Westdeutscher Rundfunk Köln. Toured Germany with The Flame Players in June 1996 (four performances).
1993: (with Gilbert Doho) Zintgraff and the Battle of Mankon, a semi-historical play (performed).
1995: Dance of the Vampires (performed; published in 1999).
1999: Lake God and other plays. Yaounde, Editions CLE
2003: Zintgraff and the Battle of Manko. Bamenda, Patron Publishing House.
2005: Family Saga. Yaounde, Editions CLE.
2005: Betrothal Without Libation. Yaounde, Editions CLE.
2010: Cameroon Anthology of Poetry. Yaounde, Africana Publications.
(b) Theater for Development Plays performed in various locations and later shot for television in Cameroon:
1995: Mother of the house (four episodes)
1996: Ngrung Palaver (women and access to landed property)
The Bride Price, The Broken Home, Survival Tactics, Horse Game, The Business Woman.
1997: The Educated Girl Child.
1999: L'Exciseuse de Pouss (short film, 27") on female genital mutilation.
1999: Kam no Go film, 55", on ethnicity, democracy and human rights.
2000: Alien in my Land, film, 25", on the pigmies of Cameroon and social exclusion
2001: Hard Road to School on corruption in Educational institutions in Cameroon.
Death for All in the New Millennium on corruption in the health sector in Cameroon.
Chop a Chop on corruption in public contracts in Cameroon.
2003: Nyang, a film on HIV/AIDS.
2004: Gomen na We, a film on good governance