Journal of the African Literature Association
ALA Members have access to all issues of JALA.

To join the ALA, click here.
Current ALA members, please log in and locate the link to JALA content in the Members Area.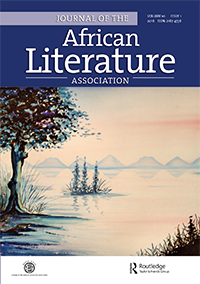 The Journal of The African Literature Association (JALA), founded in 2006, is the flagship journal of the African Literature Association (ALA). Its mission is to publish highest quality peer-reviewed articles on the oral, literary, and related arts of Africa and the African Diaspora. Published essays reflect the range of primary materials and critical methodologies that are of key interest to the field . The journal also publishes book reviews review essays, interviews, and forums.
JALA is published by Taylor & Francis, a publisher of quality peer-reviewed journals under the Routledge and Taylor & Francis imprints.
Click here for more information about current and past issues of JALA.
(Access to PDFs of articles is restricted to ALA members and JALA subscribers.)
Editorial Team
Editor in Chief
Tejumola Olaniyan, University of Wisconsin, Madison
Editors
Odile Cazenave, Boston University
Gaurav Desai, University of Michigan
Grace Musila, University of the Witwatersrand
Ghirmai Negash, Ohio University
Stephanie Newell, Yale University
Moradewun Adejunmobi, University of California, Davis. Book & Media Review
Julie Papaioannou, University of Rochester. Book & Media Review
Editorial Advisory Board
Adeleke Adeeko, Ohio State University
Susan Arndt, University of Bayreuth
Wendy Belcher, Princeton University
Carole Boyce Davies, Cornell University
Kandioura Drame, University of Virginia
Akachi Ezeigbo, Alex Ekwueme Federal University
Anthonia Kalu, University of California, Riverside
Cilas Kemedjio, University of Rochester
Renee Larrier, Rutgers University
Luís Madureira, University of Wisconsin, Madison
Janis A. Mayes, Syracuse University
Joseph McLaren, Hofstra University
Evan Mwangi, Northwestern University
Juliana M. Nfah-Abbenyi, North Carolina State University
Christopher Odhiambo, Moi University
Eustace Palmer, Georgia College
Bhekizizwe Peterson, University of Witswatersrand
Wumi Raji, Obafemi Awolowo University
Pamela Smith, University of Nebraska, Omaha
Phyllis Tauoa, University of Arizona
Wangui wa Goro, Sidensi, Ivory Coast