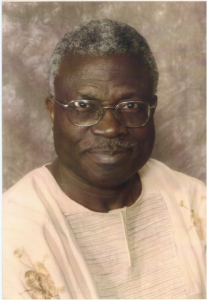 Poet, dramatist, critic, essayist, and media columnist, Niyi Osundare has authored over ten volumes of poetry, two books of selected poems, four plays, a book of essays, and numerous articles on literature, language, culture, and society. He regards his calling as a writer and his profession as a teacher as essentially complementary. He was educated on three continents: B.A. (Honours) from the University of Ibadan, Nigeria, M.A. from the University of Leeds in England, and Ph.D. from York University, Toronto, Canada.
The wide and varied exposure accruing from this has proved very useful for his writing and teaching careers. Born in Nigeria, one of the most linguistically and culturally heterogeneous countries in the world, he learnt early in life the complexities and challenges of diversity. He began his teaching career at the University of Ibadan in 1974 and rose to the position of full professor there in 1989. From 1993 to 1997, he was the chair of its Department of English. He was a Fulbright scholar at the University of Wisconsin-Madison, 1990 to 1991, and in 1991/92, an associate professor of English at the University of New Orleans, where he returned as full professor in 1997, and was selected university research professor in 2001.
His areas of specialization are African literature, literature of the African diaspora, literary stylistics, sociolinguistics, and creative writing. About his passion for teaching, he has this to say: "For me, the classroom is a vital space inhabited - no, lived - by students and teachers as partners, even collaborators, in a process of intellectual and social inquiry and exchange .... I strive to be the kind of teacher who challenges and inspires..."
For his creative works, Osundare has received many prizes: the Association of Nigerian Authors (ANA) Prize, the Cadbury/ANA Prize, the Commonwealth Poetry Prize, the Noma Award (Africa's most prestigious book award), and the Fonlon/Nichols Award for "excellence in literary creativity combined with significant contributions to Human Rights in Africa".
He has carried out readings and performances of his works in many parts of the world, and his poems have been translated into French, Dutch, Spanish, Japanese, and Korean. He has been a recipient of honorary doctorates from the Universite de Toulouse-le Mirail in France and Franklin Pierce College in Rindge New Hampshire, USA. He is a columnist for Newswatch, a prominent Nigerian newsmagazine, and a frequent newspaper commentator on current affairs.
SELECTED PUBLICATIONS:
Poetry:
Songs of the Marketplace, Ibadan: New Horn Press, 1983
Village Voices, Ibadan: Evans Brothers, 1984
The Eye of the Earth, Ibadan: Heinemann, 1986
Moonsongs, Ibadan: Spectrum Books, 1988
Songs of the Season, Ibadan: Heinemann, 1990
Waiting Laughters, Lagos & Oxford: Malthouse Press, 1990
Midlife, Ibadan: Heinemann, 1993
Horses of Memory, Ibadan: Heinemann, 1999
The Word Is an Egg, Ibadan: Kraftbooks, 2000
Selected Poems
Selected Poems, Oxford: Heinemann International 1992
Pages From the Book of the Sun: New & Selected Poems, Trenton, NJ:
African World Press, 2002
Scholarship
Thread in the Loom: Essays on African Literature and Culture, Trenton,
NJ: African world Press, 2002
Drama
The State Visit, Ibadan: Kraftbooks, 2002
www.uno.edu/~engl/osundare.htm
Email: nosundare@yahoo.com