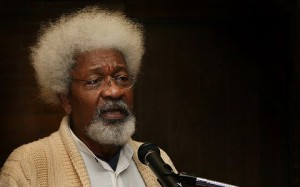 Nigerian playwright, poet, novelist, and critic, first black African who was awarded the Nobel Prize for Literature in 1986. Soyinka has been imprisoned several times for his criticism of the government and from the 1970s he has lived long periods in exile. Soyinka's plays range from comedy to tragedy, and from political satire to the theatre of the absurd. He has combined influences from Western traditions with African myth, legends and folklore, and such techniques as singing and drumming.
"Soyinka probably would like to be recognized most especially as a dramatist and man of the theatre. He implied that much at the opening of his Nobel Prize acceptance speech (dedicated to Nelson Mandela) as he related back to a moment in the past, in his theatrical beginnings, to inform the crucial political situations of the present world order. This recognition would seem to be justified, considering his gamut of plays, but more especially so because in his drama can be located elements of his equally important literary forms..." ( Femi Euba in Postcolonial African Writers, ed. by Pushpa Naidu Parekh and Siga Fatima Jagne, 1998)
Wole Soyinka was born in Abeokuta, southwestern Nigeria, which was then a British colony. The Soyinkas were members of the Yoruba tribe. His father was the headmaster of St. Peter's Primary School and mother, whom the author calls "Wild Christian", a shopkeeper and respected political figure in the community.
Like other major Nigerian writers including Elechi Amadi, Chinua Achebe, John Okigbo, John Pepper Clark, and Cole Omotso, he was also educated at the University College of Ibada. In 1954 he moved to England, where he studied English literature at the the University of Leeds, receiving his B.A. in 1959. He started his study of the work of Eugene O'Neill and wrote two plays, THE SWAMP DWELLERS and THE LION AND THE JEWEL, a story of a floppish school teacher and a old African chief competing for a young village woman. Both of the plays were staged in London.
SIDI: These thoughts of future wonders - do you buy them
Or merely go mad and dream of them?
LAKUNLE: A prophet has honor except
In his own home. Wise men have been called mad
Before and after, many more shall be
So abused. But to answer you, the measure
Is not entirely of my own coinage.
What I boast is known in Lagos, the city
Of magic, in Banagry where Saro women bathe
In gold, even in smaller towns less than
Twelve miles from here.
SIDI: Well go there. Go to these places where
Women would understand you.
If you told them of your plans with which
You oppress me daily. Do you not know
What name they give you here?
(from The Lion and the Jewel)
In 1960 Soyinka returned to Nigeria, and established an amateur ensemble acting company. He also wrote scripts for radio and television. Soyinka's first important play, A DANCE OF THE FOREST, written for Nigeria's independence celebration, was published in 1963. Although Soyinka used in his plays traditional African forms of expression, he also drew from Western avant-garde techniques. In 1962 he was appointed a lecturer in English at the University of Ife and in 1965 he became senior lecturer at the University of Lagor. THE INTERPRETERS (1965) focused on a group of intellectuals who meet at clubs in Ibadan and Lagos and interpret the Nigerian reality. The complex novel has been compared with the works of James Joyce and William Faulkner. The play THE STRONG BREED (1963) was based on the Yoruba festival of the new year and the ritual of sacrificing a "carrier" of the previous year's evil. Eman is a stranger who has found peace in his village, he has no desire to go away. Sunma, a teacher, wants to spend with him the new year, far from the festival. The villagers want to safricife Ifada, a helpless and unwilling boy. Omae, Eman's betrothed, who has died giving birth to his child, appears to him, and Eman finally fulfills his task and dies a carrier. "Those who have much to give fulfil themselves only in total loneliness."
Soyinka was first time imprisoned after elections in Western Nigeria, charged for illegal broadcast criticizing fraud of the results. During the rule of Yakubu Gowon, Soyinka was jailed in 1967-69 for conspiring to aid Biafra's independence movement. Several American and British writers, among them Lillian Hellman and Robert Lowell, protested to the Nigerian government, and Soyinka was released. His poem, 'Live Burial,' appeared in The New Statesmen on the 23rd of May, 1969. It was sent to an English critic from the prison. "Sixteen paces / By twenty-three. They hold / Siege against humanity / And Truth / Employing time to drill through to his sanity." Soyinka's collection on poems, THE MAN DIED (1972), describes his time in jail. The book was banned in Nigeria. MADMEN AND SPECIALISTS, written in 1970, is Soyinka's most pessimistic play. It dealt with man's inhumanity and pervasive corruption in structures of power.
There is a deep lesson for the world in the black races' capacity to forgive, one which, I often think, has much to do with ethical precepts which spring from their world view and authentic religions, none of which is ever totally eradicated by the accretions of foreign faiths and their implicit ethnocentrism.  (from Nobel Lecture, 1986)
After release Soyinka worked as a teacher, but went in 1972 into voluntary exile. During this time worked as a lecturer, held a fellowship at Churchill College, Cambridge, and wrote three important plays: JERO'S METAMORPHOSIS, THE BACCHAE, and DEATH AND THE KING'S HORSEMEN. In 1975 he moved to Accra, Ghana, becoming an editor of Africa's leading intellectual journal Transition. After a coup deposed President Gowon in 1975, Soyinka returned to Nigeria and was appointed professor of English at the University of Ife. Soyinka's childhood memoirs, AKÉ: THE YEARS OF CHILDHOOD, appeared 1981. It depicted vividly the village where he grew up, his parents, and his education in Yoruba traditions and mysteries, which later sought their way into his writings. In 1988 he became a professor of African studies and theatre at Cornell University. Despite government pressure, Soyinka was active in the Nigerian theater, satirizing among others corruption and the prosperity brought to Nigeria by the oil industry.
Soyinka's best-known essays MYTH, LITERATURE, AND THE AFRICAN WORLD were published in 1976. He has been one of the most outspoken critics of the concept on négritude, which have been associated with Léopold Senghor, the writer and former President of Senegal. Soyinka sees that négritude encourages into self-absorption and affirms one of the central Eurocentric prejudices against Africans, namely the dichotomy between European rationalism and African emotionalism."A tiger does not shout its tigritude," Soyinka said, "it acts." In his essay 'Reparations, Truth and Reconciliation' (in THE BURDE OF MEMORY, THE MUSE OF FORGIVENESS, 1999) Soyinka defends the idea, that the West should pay reparations for crimes committed against African people. "Reparations... serve as a cogent critique of history and thus a potent restraint on its repetition." Soyinka points out that this discussion is not new, but Pan-African organizations talked about compensation in the beginning of the 20th century.
After the death of military dictator Sani Abacha on June 1998, Soyinka demanded democracy to Nigeria. He lived in exile in the US and France after leaving Nigeria in 1994. He had participated in 1993 on a protest march against the military regime and also witnessed on another occasion the killings of peaceful demonstrators. "Some people think the Nobel Prize makes you bulletproof. I never had that illusion." Soyinka was accused in 1997 with 14 other opposition members for bomb attacks against army between the years 1996-97. The accusations have been canceled and general Abdulsalami Abubakar have granted amnesty for several political prisoners. Soyinka returned in October 1998 to his home country. In his play KING BAABU (2001) Soyinka parodied past and present African dictators. The title refers to Alfred Jarry's classic absurdist play, Ubu Roi (1896). "Look at Mugabe stifling the opposition under the pretence of repossessing alienated land. He's one of these dictators who want to die in office and will crush all dissenting views...in the crudest manner -- killing his opponents, torturing them, burning their houses." (Soyinka in a CNN interview, August 1, 2001)
For further reading: The Writing of Wole Soyinka by Eldred Jones (1973, rev. 1983); Critical Perspectives on Wole Soyinka by James Gibbs (1978); Wole Soyinka by Gerald Moore (1978); Critical Perspectives on Wole Soyinka by James Gibbs (1980); Wole Soyinka: An Introduction to His Writing by Obi Maduakor (1986); Wole Soyinka Revisited by Derek Wright (1993); Research on Wole Soyinka, ed. by J. Gibbs and B. Lindfors (1993); Wole Soyinka: An Appraisal, ed. by A. Maja-Pearce (1994); Wole Soyinka: Life, Work and Criticism by D. Wright (1996); Postcolonial African Writers, ed. by Pushpa Naidu Parekh and Siga Fatima Jagne (1998); Conversations with Wole Soyinka, ed. by Biodun Jeyifo (2001) - SEE ALSO: Amos Tutuola, who became famous with his stories based on Yoruba folk tales - NOTE: The writer and human rights activist Ken Saro-Wiwa (1941-1995) was hanged despite of international protests. His son Ken Wiwa is continuing the struggle for democracy. - In an interview in Newsweek on August 10, 1998 Soyinka stated that to further the transition to Nigerian democracy "the United States must not give any ground to the regime until democracy has been restored."
Selected works:
A QUALITY OF VIOLENCE, 1959
THE TRIALS OF BROTHER JERO, 1960
A DANCE OF THE FORESTS, 1963
THE STRONG BREED, 1963
THREE PLAYS (The Swamp Dwellers, The Trials of Brother Jero, The Strong Breed), 1963
THE LION AND THE JEWEL, 1963
KONGI'S HARVEST, 1965
THE INTERPRETERS, 1965 - Tulkit
THE ROAD, 1965
IDANRAE AND OTHER POEMS, 1967
THE FOREST OF A THOUSAND DAEMONS, 1968
POEMS FROM PRISON, 1969
MADMEN AND SPECIALISTS, 1970
BEFORE THE BLACKOUT, 1971
JERO'S METAMORPHOSIS, 1972
A SHUTTLE IN THE CRYPT, 1972
THE MAN DIED, 1972
SEASON OF ANOMY, 1973 - Laittomuuden kausi
CAMWOOD ON THE LEAVES, 1973
COLLECTED PLAYS 1, 1973
COLLECTED PLAYS 2, 1974
DEATH AND THE KING'S HORSEMEN, 1975
MYTH, LITERATURE, AND THE AFRICAN WORLD, 1976
OGUN ABIBIMAN, 1976
AKÉ: THE YEARS OF CHILDHOOD, 1981 - Áke - lapsuusvuodet
OPERA WONYOSI, 1981
THE CRITIC AND SOCIETY, 1982
A PLAY OF GIANTS, 1984
SIX PLAYS, 1984
REQUIEM FOR A FUTUROLOGIST, 1985
THIS PAST MUST ADDRESS ITS PRESENT, 1986 (Nobel Lecture)
ÌSARÀ, 1987
MANDELA'S EARTH AND OTHER POEMS, 1988
ART, DIALOGUE AND OUTRAGE: ESSAYS ON LITERATURE AND CULTURE, 1988 (rev. 1993)
ISARA: A VOYAGE AROUND 'ESSAY', 1989
THE CREDO OF BEING AND NOTHINGNESS, 1991
FROM ZIA, WITH LOVE, 1992
BEYOND THE BERLIN WALL, 1993
IBADAN: THE PENKELEMES YEARS, 1994
THE BEATIFICATION OF AREA BOY, 1995
THE OPEN SORE OF A CONTINENT: A PERSONAL NARATIVE OF THE NIGERIAN CRISIS, 1996
THE BURDEN OF MEMORY, THE MUSE OF FORGIVENESS, 1999
KING BAABU, 2001
Courtesy of PEGASOS, a literature related resource site