For more tributes to Dadié, click here.
By Cilas Kemedjio, University of Rochester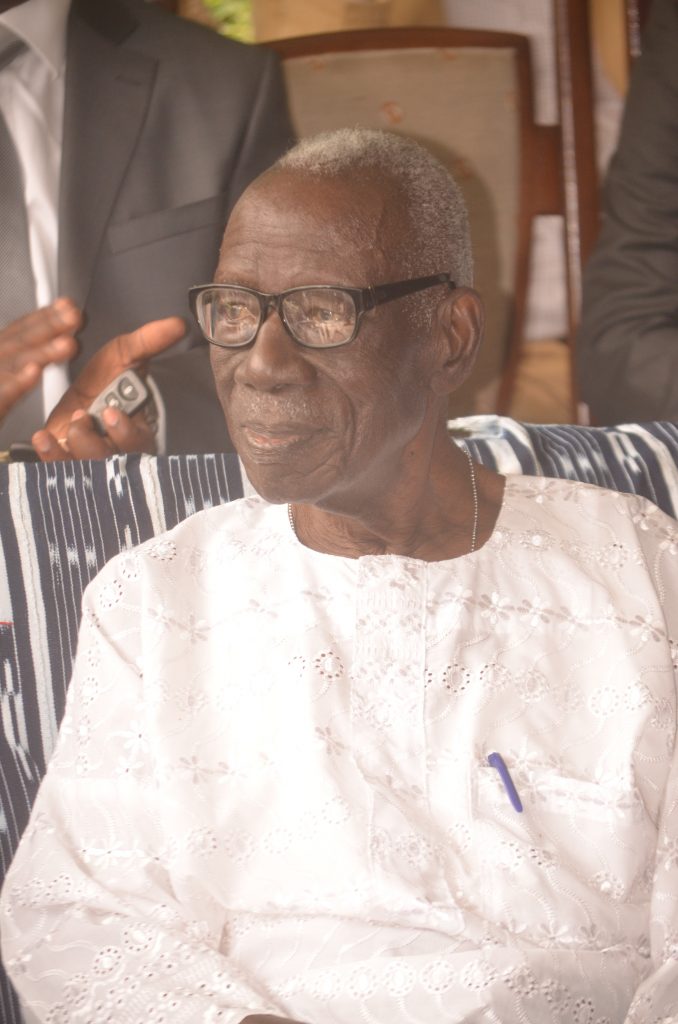 Those who are dead are not ever gone;
They are in the darkness that grows lighter
And in the darkness that grows darker.
The dead are not down in the earth;
They are in the trembling of the trees
In the groaning of the woods,
In the water that runs,
In the water that sleeps,
They are in the hut, they are in the crowd: The dead are not dead. (Birago Diop, soufflés)
Bernard Binlin Dadié, founder of the modern Ivorian literary tradition, activist who played a critical role in the anticolonial movement, is no longer part of this world. Where's Dadié? We are certain that his transition has taken him somewhere else, since his fellow writer Birago Diop instructed us that "les morts ne sont pas morts." Léopold Sédar Senghor, who wrote the beautiful poem "In Memoriam," is called upon here to help celebrate Dadié's life. Is Dadié now reunited with his fictional characters who have dazzled our literary imagination? Maybe he is with Climbié, mapping out the new road to our unfinished modernity project? Maybe he has been reunited with Ahmadou Kourouma, trying to sort out the Suns of independence! Or could it be that he has just set up a rendez-vous with Mongo Beti to vanquish the perpetuation of the habits of unhappiness. I'm confident Aimé Césaire or Glissant could moderate such a roundtable, unless they prefer to have Bessie Head or Buchi Emecheta do the job. Is it more likely that he is trying to put the residents of Paris under the gaze of Un Nègre à Paris? Or maybe his soul is wandering in New York, following the triumphs and defeats of people of African descent on this side of the Atlantic ocean! He has probably been meeting with his former classmates of the colonial school: "I entered the École Primaire Supérieure of Bingerville in 1930. At Bingerville, we took an exam that allowed us to compete for entry into the École William-Ponty, which grouped together students from all eight French colonies. The École William-Ponty was located on Gorée Island." Dadié went to school in Gorée, the painful site of memory; he came back to Abidjan, and did his part for the struggle:
"I was back in Abidjan at the time of the general strike in 1947. There was a strike of railroad workers and government personnel. It was a difficult time for the African economy. And from 1946 to 1947 -after the war- things changed. There was a law that made us French citizens, and we could create our own newspapers. We had already started a paper Le Réveil in Dakar, and we started another one in Côte d'Ivoire. It was also the time of the first congress of the PDCI (Parti Démocratique de Côte d'Ivoire)."
One of the rituals of resisting colonialism was the road to the jailhouse:
After the war, things began to change in Europe, on metropolitan terrain... And in 1949, there was a sort of retrenchment, a change in local government. It was as if we had lost everything we gained. they wanted to put us in alert. They were afraid of the Communist party. There was a meeting at the Comacico movie house in Treicheville. It was organized by the Bloc Démocratique on February 6, 1949. We all came to this meeting. And we learned that some people who came were armed. But the government was behind that. We were tricked. And they described our meeting as pillage and violence. It's still written like that in the government documents of accusation. And they picked us up then. I've written about it in Carnets de prison.
I extend my gratitude to Benetta Jules-Rosette who documented this part of Dadié's life in her book Black Paris: The African Writers' Landscape (1998). Dadié is somewhere. Dadié is ailleurs. And the African Literature Association family is going to miss him! Yet, we take comfort that Dadié was and is highly regarded by the members of the ALA. Our past President, Professor Janis Mayes, was inspired by a question she asked to Dadié. That early inspiration has put her on the road of translating (metaphorically and literary) Dadié's work. Janis is a witness whose tribute to Dadié comes from the heart. Our long time member, Marc Adoux Papé, is the co-editor of a volume that came out shortly before Dadié's transition. We have taught and will teach this "contemporain capital"'s works. We are grateful to Janis and Marc for their contributions.
Dadié n'est pas mort,
Il est dans les pages de Climbié,
Il est dans le souffle du nègre à Paris
Il vit dans la vaillance des ancêtres de la littérature africaine.
On behalf of the ALA family, I convey all my condolences to the Dadié's extended family. Que la terre de nos ancêtres lui soit légère ! let's give the last words to the poet himself :
I thank you God, for having created me black,
I carry the world since the beginning of times
And my laughter on the world, at night
created the day.